The Beatification of Pope John Paul this Sunday reminds me very much of the last few days of his life on earth. Like now, it was also the weekend after Easter that he died, in 2005. I just happened to be in Rome at the time. What a remarkable week it was and what a privilege to witness those momentous events in the history of the Church and the world. Here is my own pictorial record of the events as they unfolded taken with my own humble camera:
On the Wednesday after Easter I took this photo of what I was told would be the final resting place of Pope John Paul, in the crypt of St Peter's Basilica. It had been the place were Blessed Pope John XXIII had been buried until his beatification a few years earlier. His body is now upstairs in the main Basilica. Little did I know that in just over a week our beloved Pope John Paul would be buried here.
Noon on the same day. More and more media were descending on Rome. Here all camera's are fixed on the Pope's study window. He had appeared briefly on Easter Sunday to give his Urbi et Orbi blessing to the city and world – in silence. No appearance was expected today but there was a large group of young people in the square from the diocese of Milan who were making their annual pilgrimage to Rome. They were shouting viva il Papa – long live the Pope. Then the Pope's study window opened and the carpet ( I'm sure it must have a proper name) with his coat of arms was draped from the window. We knew then that he intended to appear. One of his secretaries appeared first and read a statement on behalf of the Pope expressing his greeting to all the pilgrims especially the young people from Milan. He thanked them for their prayers and best wishes and wished everyone the joy of the Risen Christ. There was a great cheer and then the Pope appeared. He waived but he was unable to speak, no matter how hard he tried. In silence the Pope made the sign of the cross over us all – it was his last public blessing – his last public appearance. There was another great cheer and then he was gone. It happened so quickly that I didn't get a photo. It was an incredibly emotional moment. After this I realised that he was now coming to the end of his life. This was the last exercise of his public ministry and how fitting it was that he had made that special effort for young people whom he always held close to his heart. There were a lot of hugs and tears among those  young pilgrims from Milan. They remained in the square to sing hymns and pray the rosary.
I was in Rome by myself and staying very near the Vatican at the Domus Romana Sacerdotalis – the house of the Roman clergy – a residence for clergy working in Rome that also accommodated visiting clergy. It's called "extra-territorial" because although it was actually outside the Vatican it was counted as part of the Vatican City State. It's a terrific place to stay because it's cheaper than your average hotel and you meet priests, bishop's and Cardinal's from all over the world. The food is good and you are offered wine with lunch and dinner. On Thursday evening at supper a priest told me that the Pope's health was deteriorating. I walked to St Peter's Square and  several thousand people were assembled in prayer. But this was nothing compared to the tens of thousands who assembled on the Friday evening.  On Saturday during the day there were again many thousands of people in St Peter's Square. The crowds continued to grow all day – by Saturday evening the square was packed.
There were groups of young people huddled together singing hymns and praying the rosary.
Some formed themselves into circles to form a sort of gentle circle dance as they sang hymns.
Every so often a young person would rally the crowd into shouting Viva il Papa – long live the Pope. Later we heard that the Pope could here the shouts of the people in the square. He had been told that many young people has come to pray for him and he said "I have searched for them and now they have come to me and I thank them".
Evening began to fall and every one's attention was drawn to the light burning in the Pope's bedroom. We wondered whether any announcement would be made from there regarding the Pope's health. All we knew at this stage was that he was in the  last moments of his earthy life.
By now the whole of the world's media had descended on Rome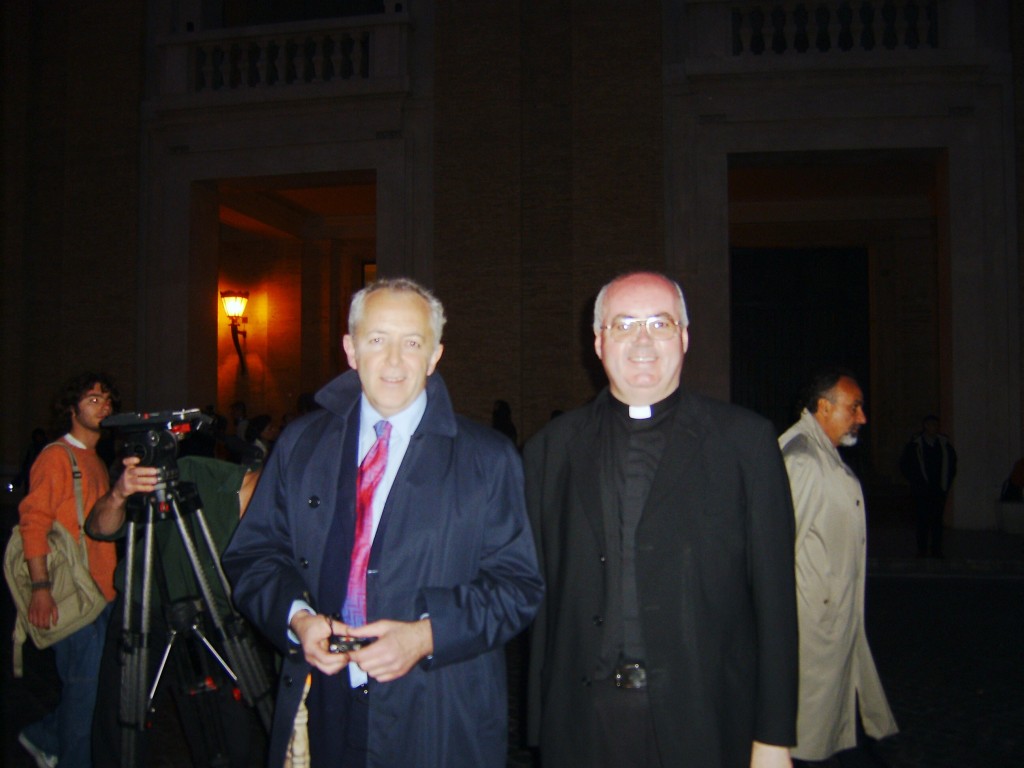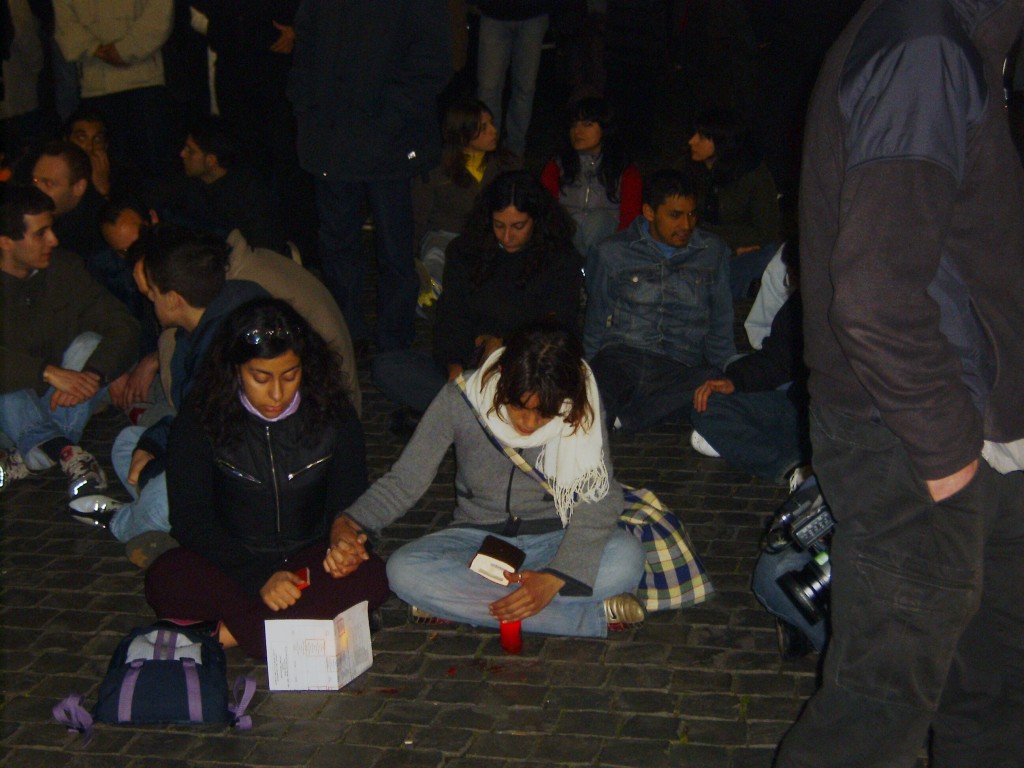 Night had fallen and the prayers seemed to be quieter and more intense.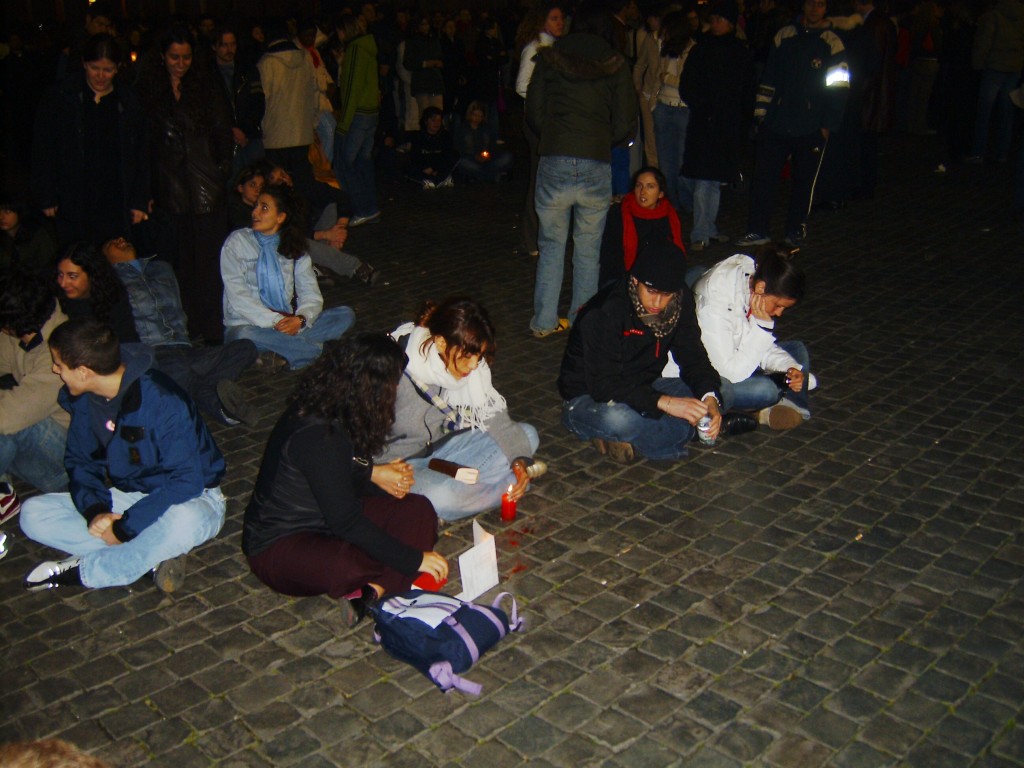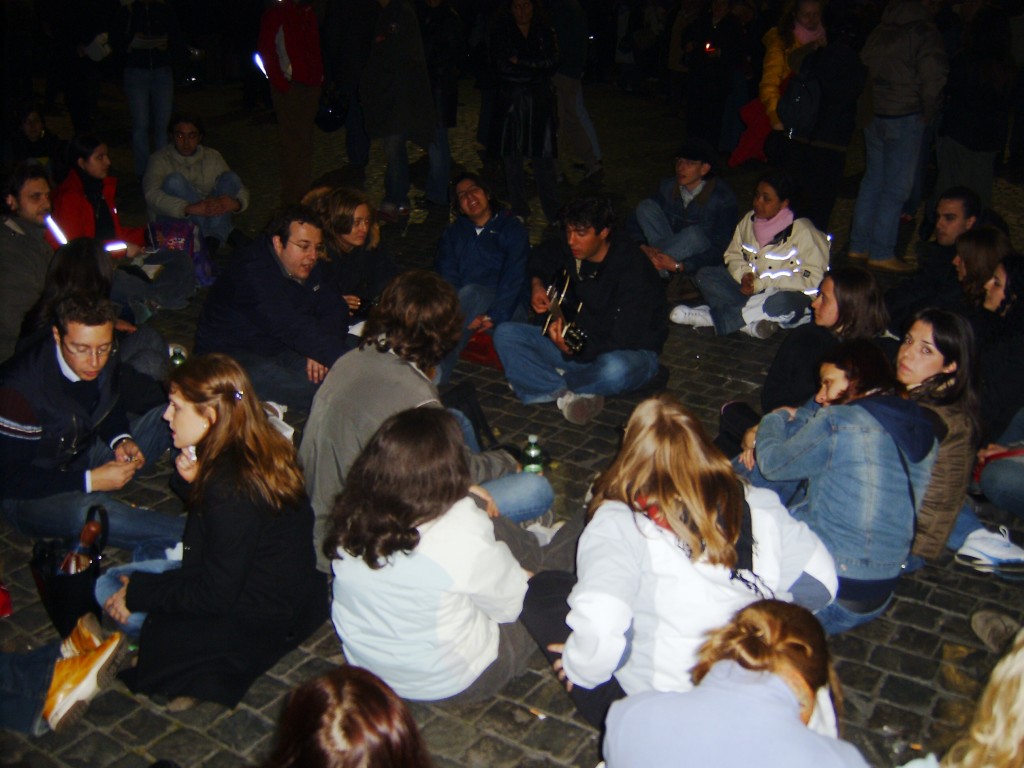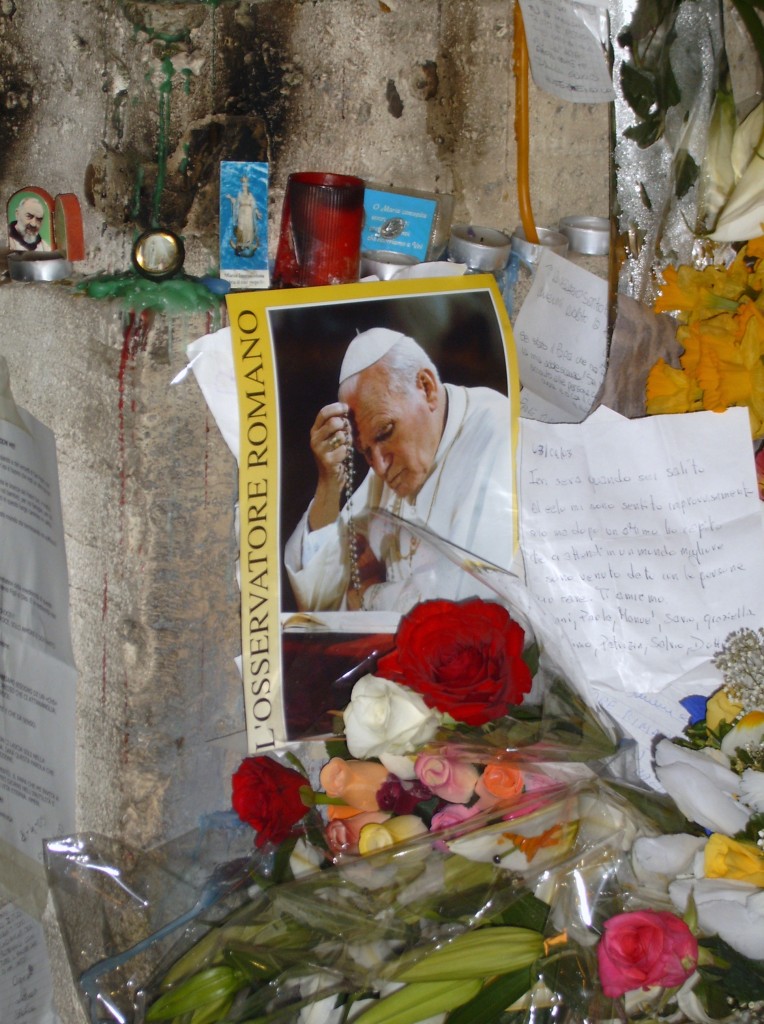 At about 9.00pm some leading clerics from the Vatican came out onto the steps of St Peter's to lead the Rosary. Never, before I have experienced such unity in prayer – such devotion and sincerity. By now we knew that we were accompanying the Holy Father in his transition from this world to the Father's house. It seemed that the whole Church throughout the world were accompanying us in this moment of fervent prayer – calling on Our Blessed Lady to pray for the Pope "now – at the hour of his death."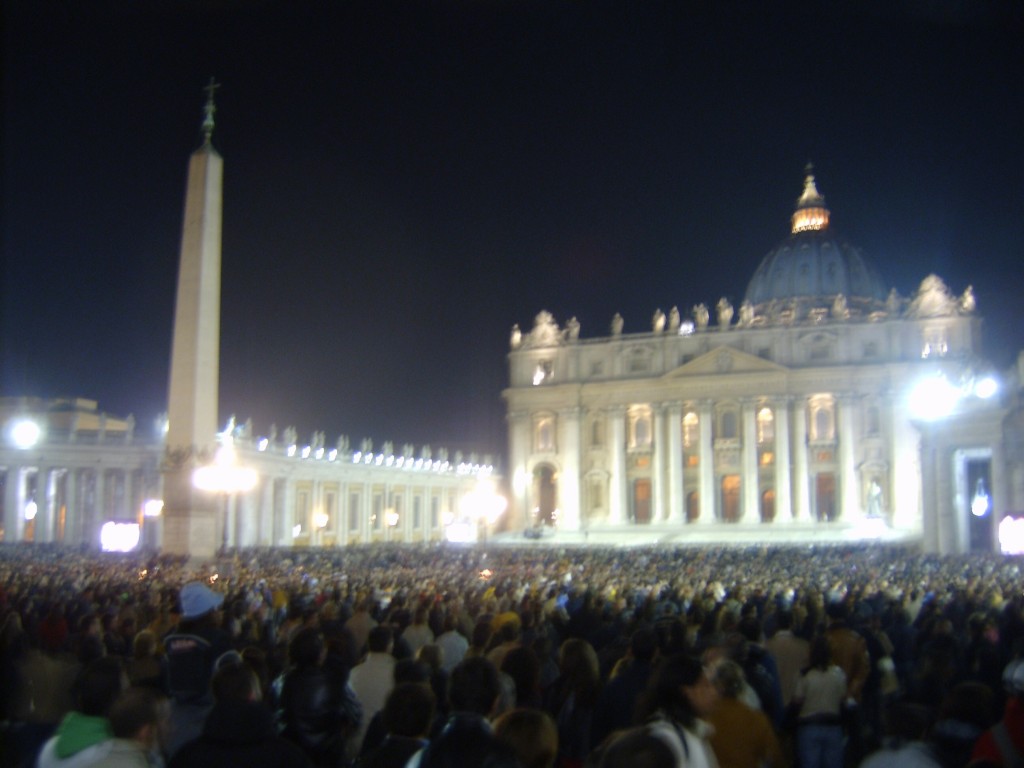 We had no sooner finished the rosary when it was announced that the Holy Father had died. Then something happened that really shocked me – there was a round of applause. It's an Italian way of showing respect but it seemed to me that we were cheering the Holy Father into heaven. But then, a deep and profound silence and stillness was observed. Families, couples, groups of people embraced each other and wept. There wasn't a dry eye anywhere. We all felt the pain of loss. Our Holy Father had gone and we could not imagine what life would be like without him. The light in the Pope's bedroom was now extinguished.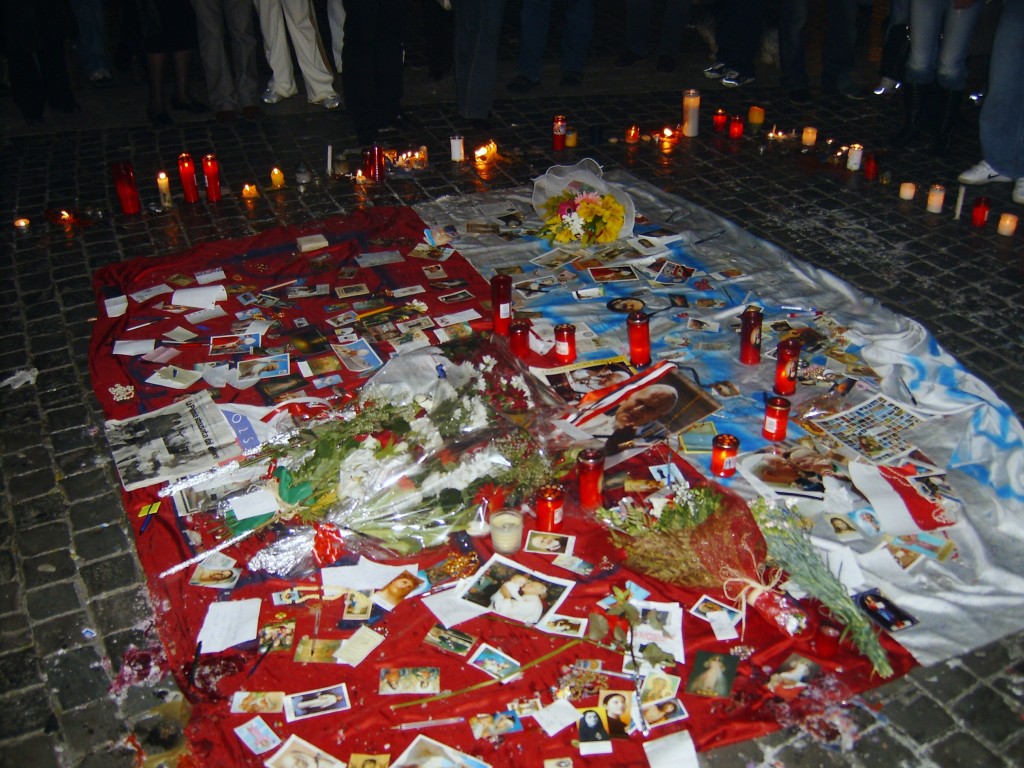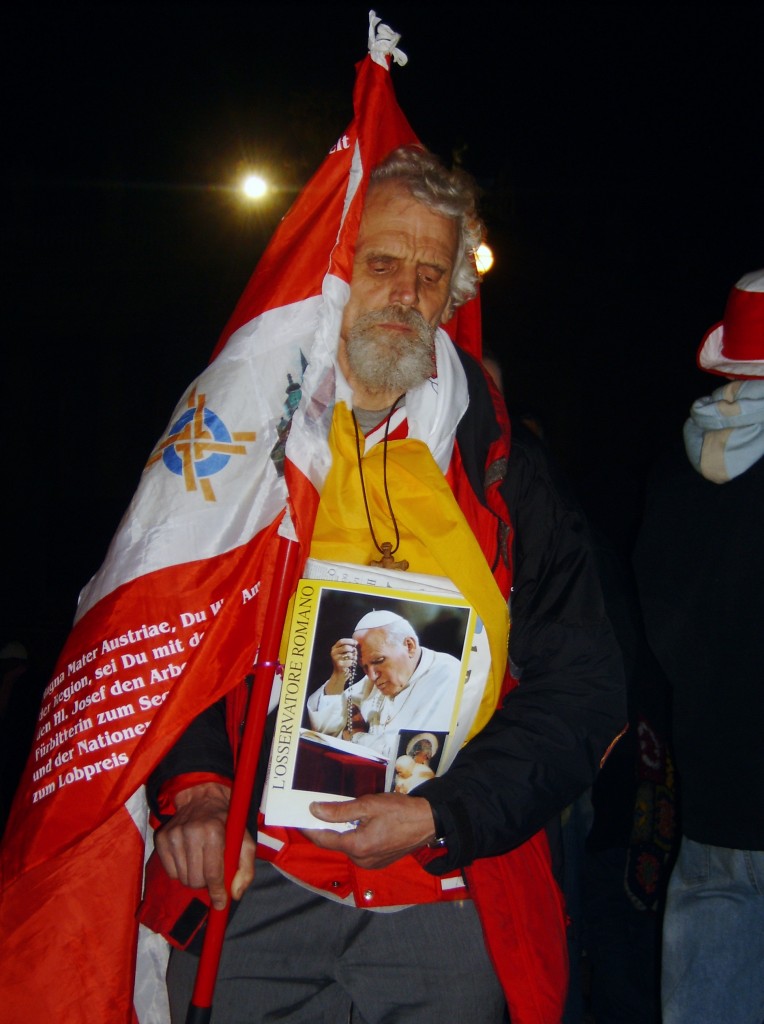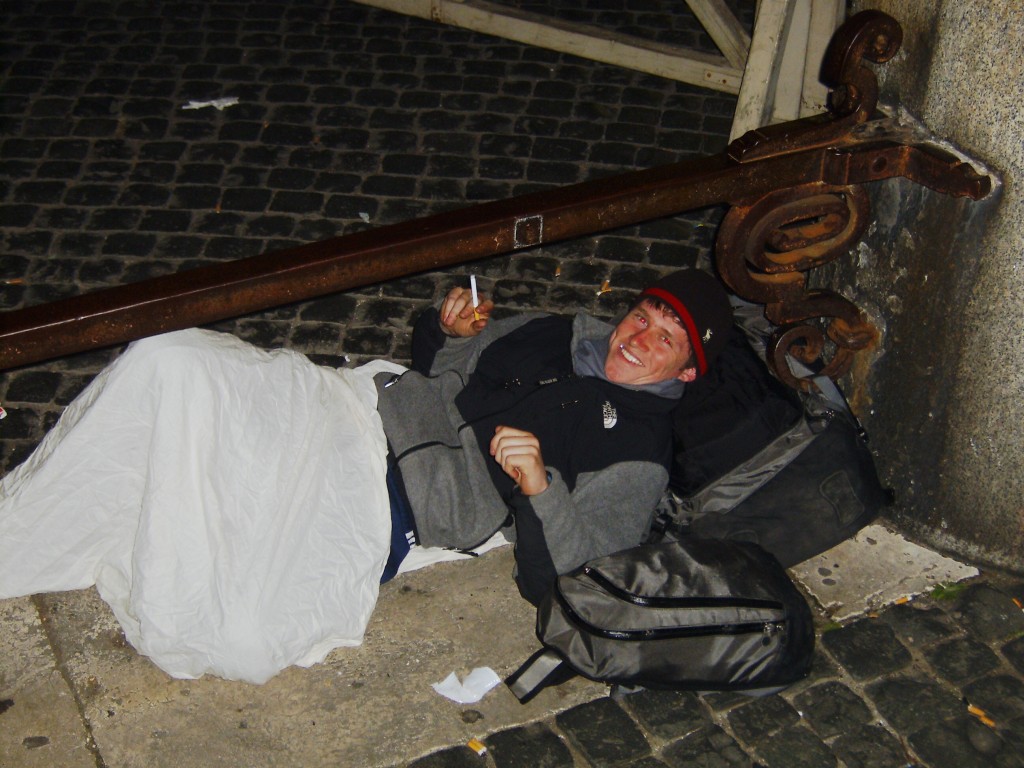 This young man from the United States said he would camp out in St Peter's Square until the Pope's Funeral.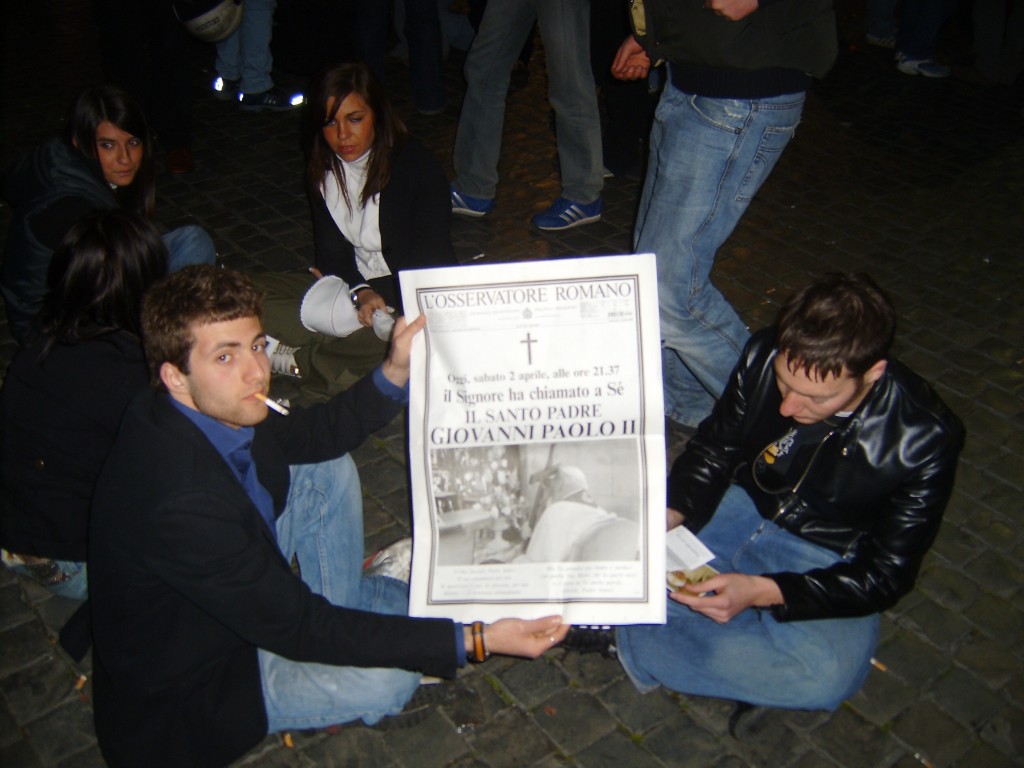 Within the hour the Vatican newspaper had printed a special edition. It confirmed that the Holy Father had died at 9.37pm on Saturday 2nd April. I would never of imagined that the Vatican Newspaper would have to have the police to control the crowds who were crawling over each other in search of a copy as can be seen from the photo below on the next morning.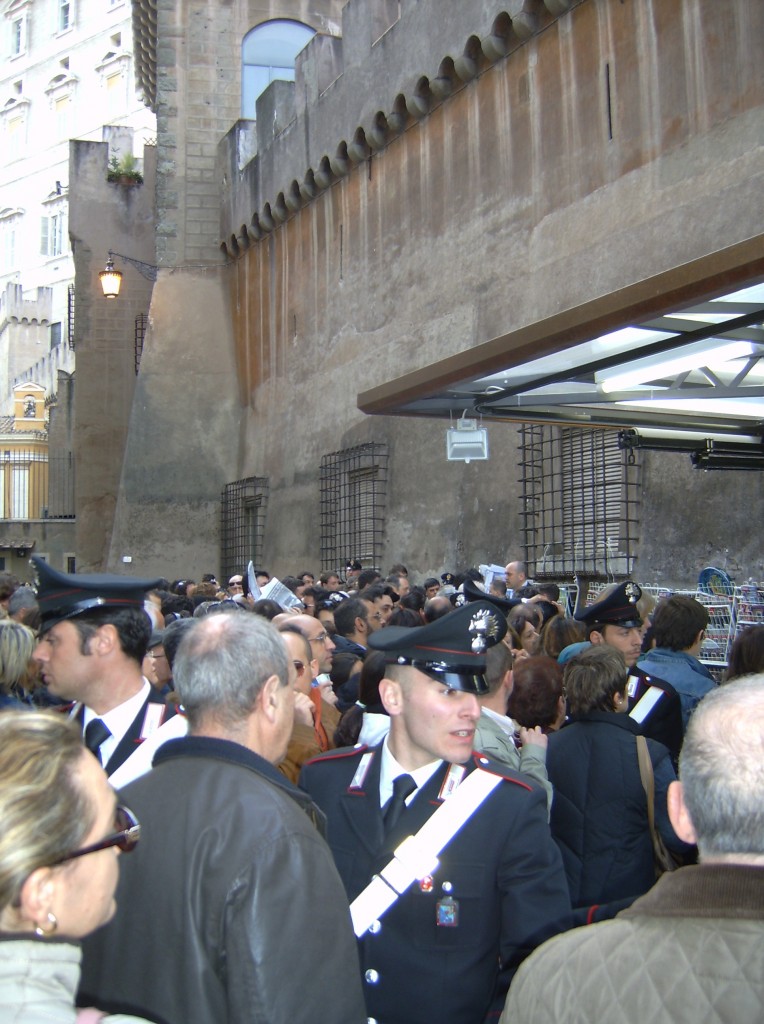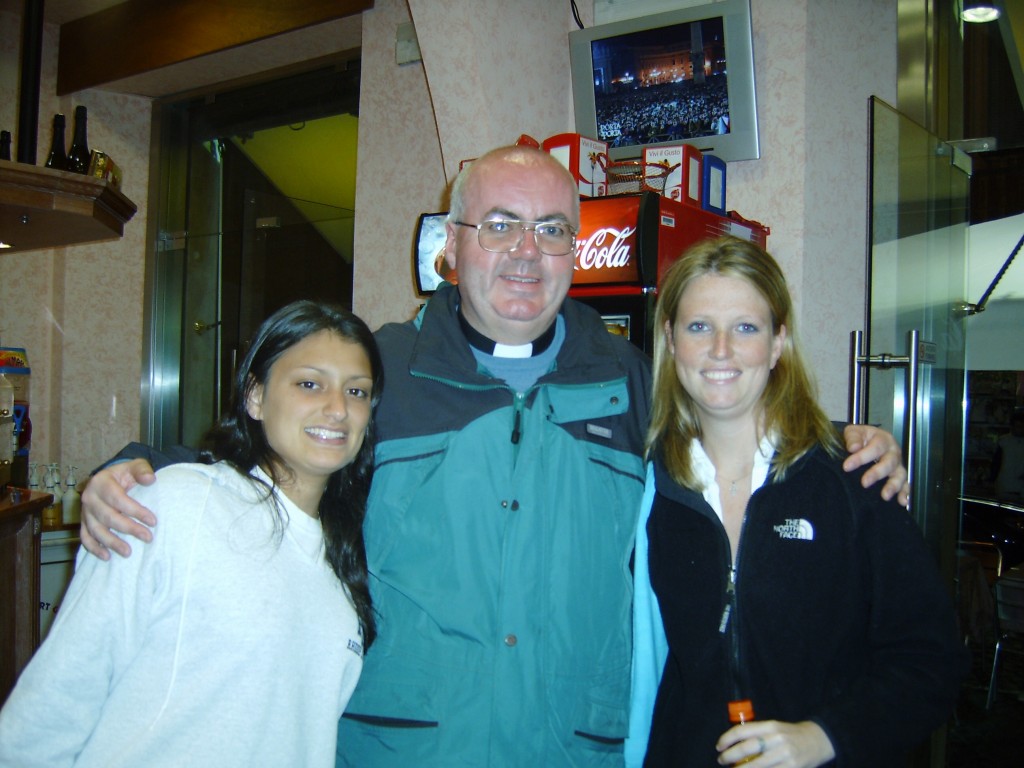 At about 11pm I walked back to my hotel and got chatting to two girls from the United States. They were really upset so I invited them to a bar for a drink. What I found remarkable was that these two young women were not Catholic but had just been taken up in the whole drama of it all and they also felt that they had just witnessed the passing of a great man of God. They managed to dry up their tears and I proposed a toast to John Paul who was now surely enjoying the bliss of heaven.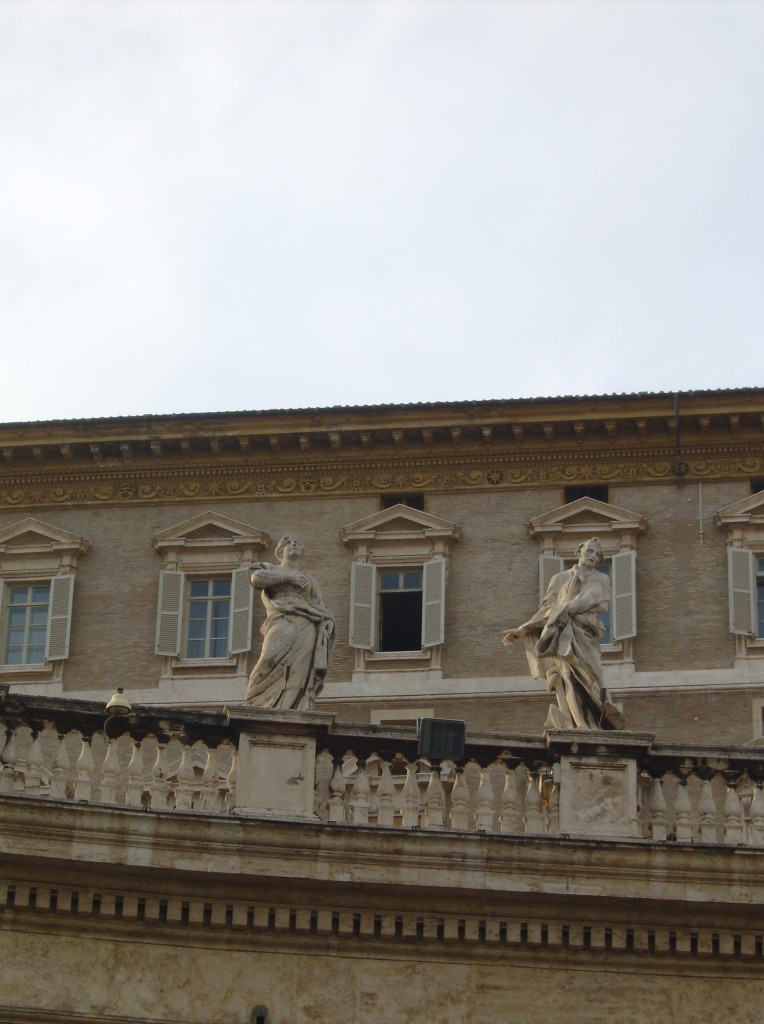 The next morning the window of the Pope's bedroom was blacked out. It was from his study window next door where on every Sunday the Pope would lead the Angelus and address the crowds. Today was Sunday! We felt the pain of loss – he will not appear to bless us today or anyday. We could not comprehend what the Church would be like without "our Holy Father". On this morning we were told at Mass in St Peter's square that the Pope's last words before he died had been "let me go to my Father's house" We had to let him go and we had to learn that the life of the Church would continue. The closing words of Cardinal Ratzinger in his homily at the Pope's Requiem Mass brough us all great comfort:
"None of us can ever forget how in that last Easter Sunday of his life, the Holy Father, marked by suffering, came once more to the window of the Apostolic Palace and one last time gave his blessing urbi et orbi. We can be sure that our beloved Pope is standing today at the window of the Father's house, that he sees us and blesses us…."
On Sunday afternoon I noticed that more and more people were decending on Rome. Cardinal's and their entourages began to appear at the place where I was staying. I had my flight booked back to the UK on Wednesday. I wanted to stay for the Pope's Funeral on the Friday but I was told that my room was not available after Wednesday. I had to make room for some prelate. I knew it would be difficult to find a room anywhere else so I resigned myself to leaving on Wednesday. I was glad by then because by Wednesday the whole of the world seemed to have come to Rome.
Again, on Sunday afternoon, I was interviewed by a few News Agencies including Al Jazeera. The young lady here from Fox News thought I was decent enough to be broadcast live on Fox News. She took me to the roof of a hotel and here I am waiting to be interviewed. I did so well that they invited me to come back for the main show in the evening at 10.00pm. I rang everyone at home to tell them to watch. On the night show at the bottom of the screen the caption read – "Fr Lawrence Jones – Vicar of London". Where they got that from I don't know! Perhaps Americans think there is only one city in England! I was interviewed by there lead man – someone called Shepherd, I think! He introduced me as coming from London and started talking about how the Holy Father had reached out to Muslims. "Father, are there many Muslims in London, have you any contact with them?" Well, I didn't want to say that I wasn't from London and I didn't want to say that I hardly knew any Muslims, so I just pretended that I did. The conversation continued on this theme of Catholic / Muslim relations. All I could do was speak about how much Pope John Paul had reached out to Islam – his trips to Muslim countries, visiting mosques and what have you. "And in London, Father, has the Church followed the Pope's example?" God must have intervened at this point because we were told that the satellite link with the US had broken down and they couldn't retrieve it. So they thanked me very much and I was free to leave. Thanks be to God.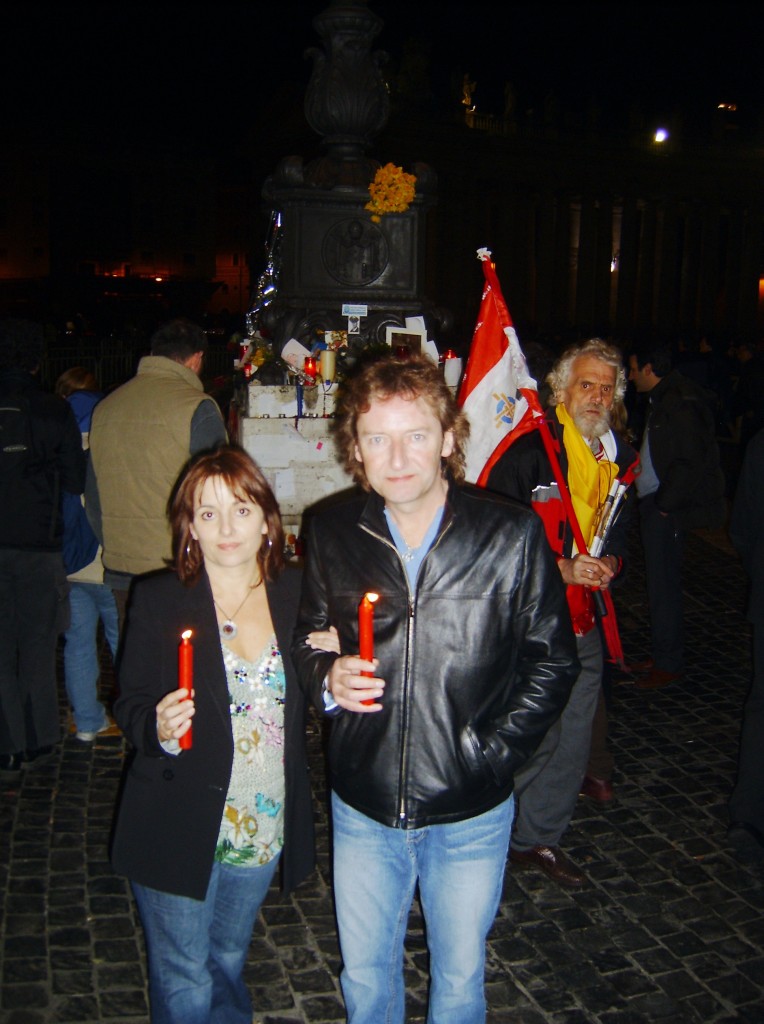 Earlier in the evening in St Peter's Square I bumped into two former parishioners from Stockton on Tees, Damian and Joanne. They had flown over just to pay their last respects to Pope John Paul. After lighting a candle at one of the make shift shrines we went for dinner. It all helped to calm my nerves as I prepared to appear on worldwide TV at 10.00pm! Damian and Joanne came along to give me moral support.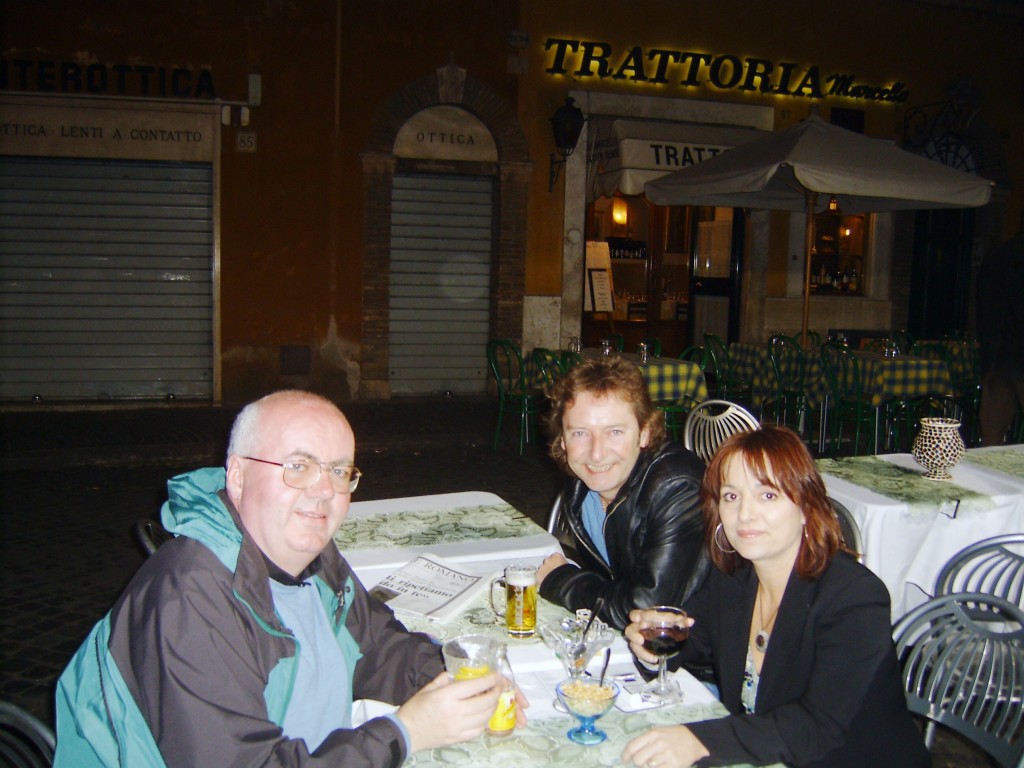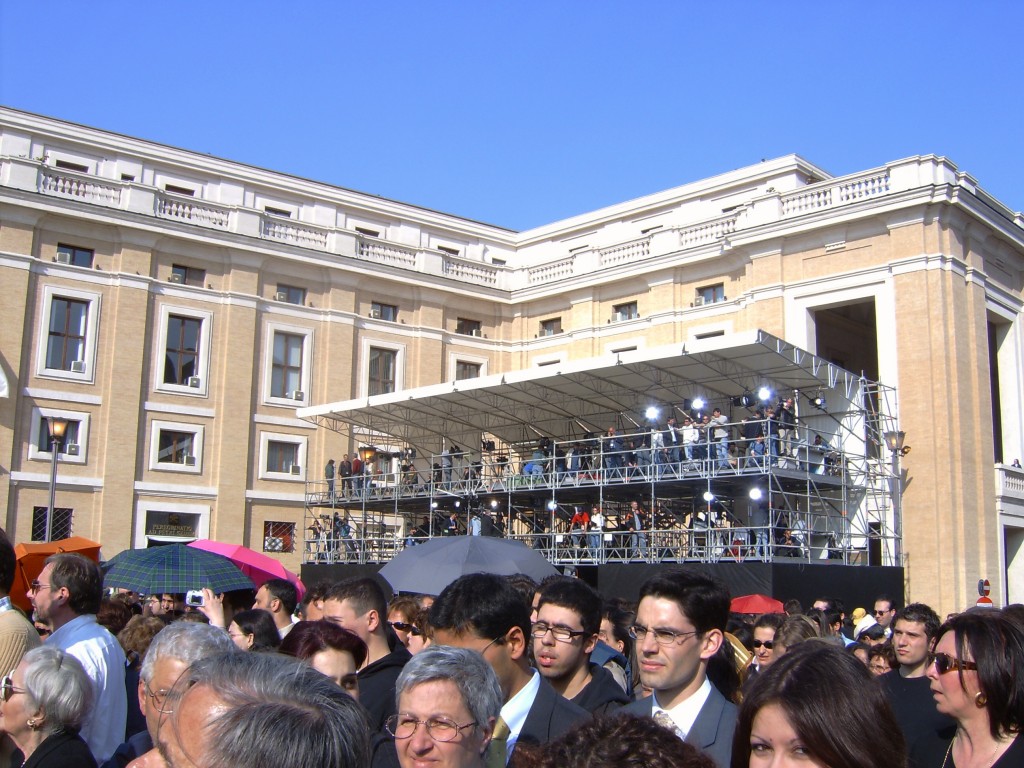 The Lying in State began on Monday. A huge scaffolding complex had been erected for the world's media.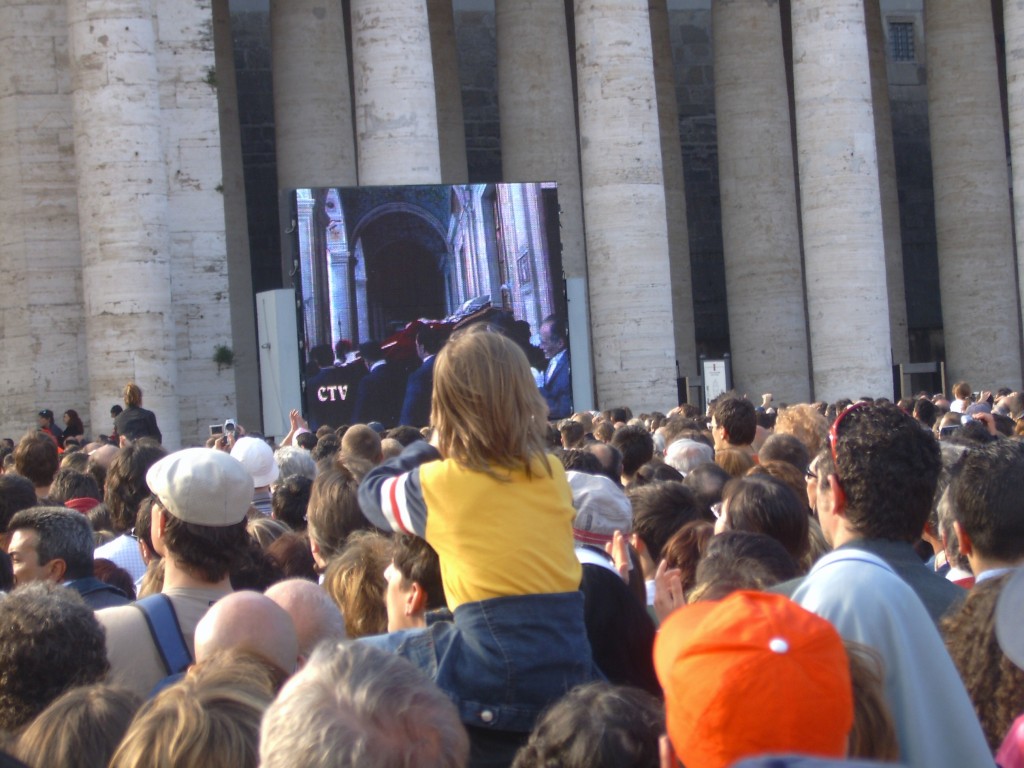 St Peter's Square was packed as we watched on the TV screen the transfer of the Pope's body from the Apostolic Palace through Square and into the Basilica and then to the High Altar for the Lying in State. After about an hour the Basilica was opened to the public and we were all maneuvered into a queue. Something totally alien to Italians! I could of throttled a few people! Anyway, in the end everyone was good humoured and very patient. I came prepared with some water and a sandwich. I needed them because I was in the queue for seven hours.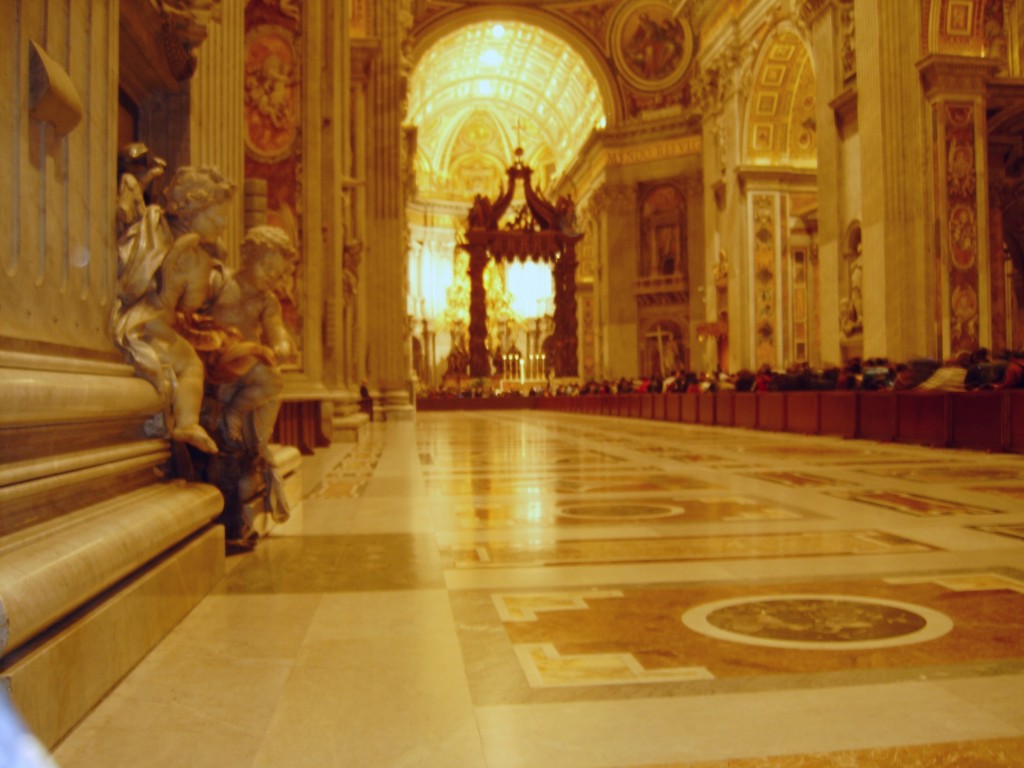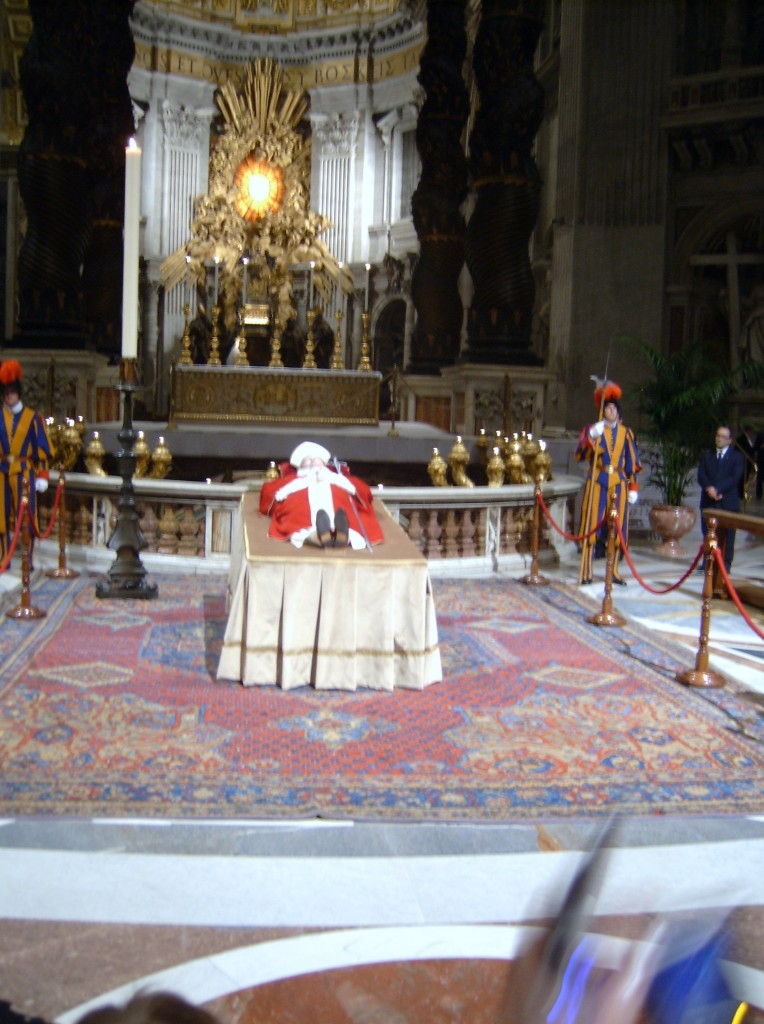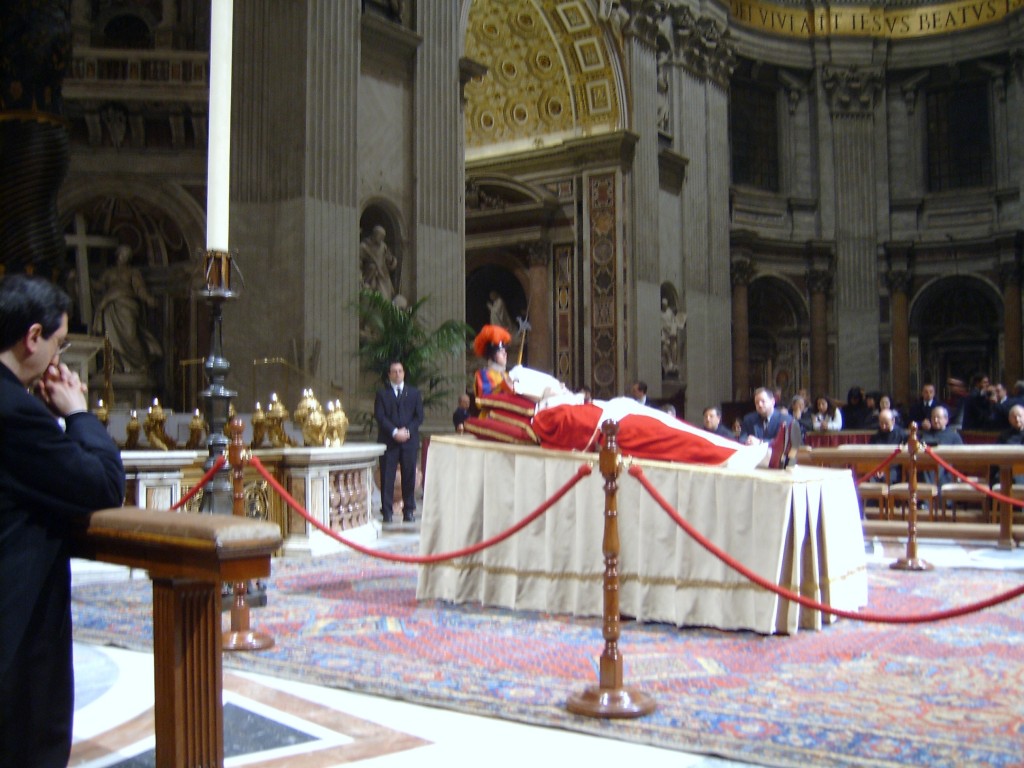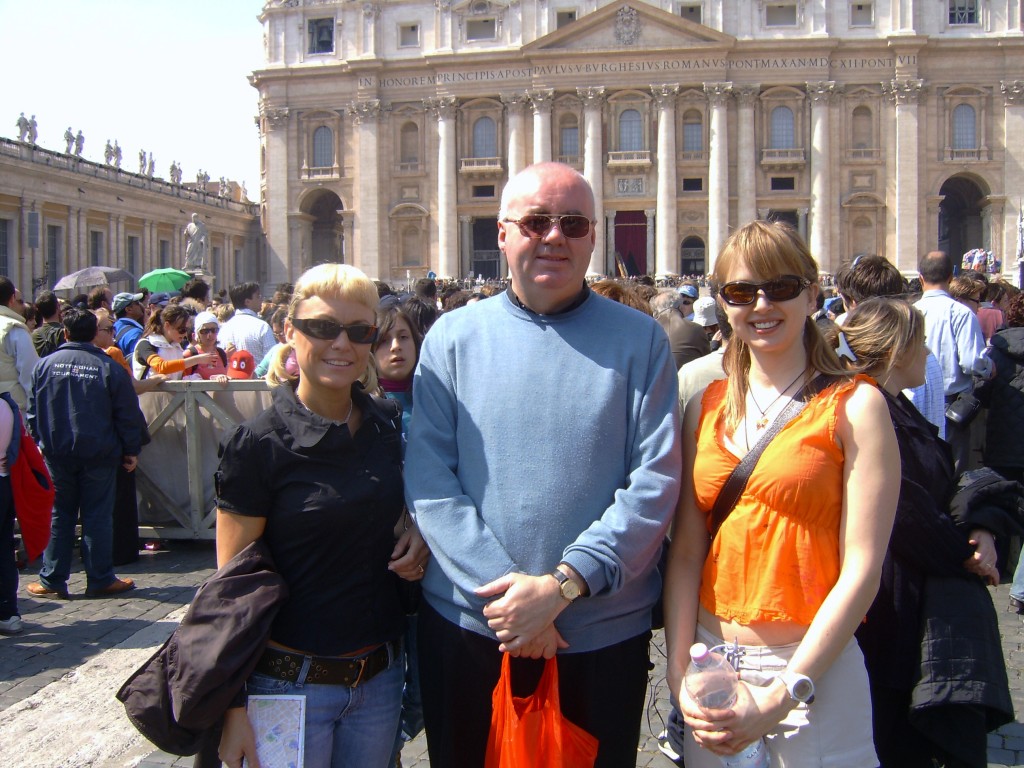 On Tuesday morning I was approached by these two girls from Liverpool. They weren't Catholic but wanted to pay their respects to the Pope. They asked me how long the queue was because they were going to a rock concert that night which was the purpose of their visit. I told them that if they waited in the queue they would certainly miss the concert and in fact they may might not be seen again until Christmas!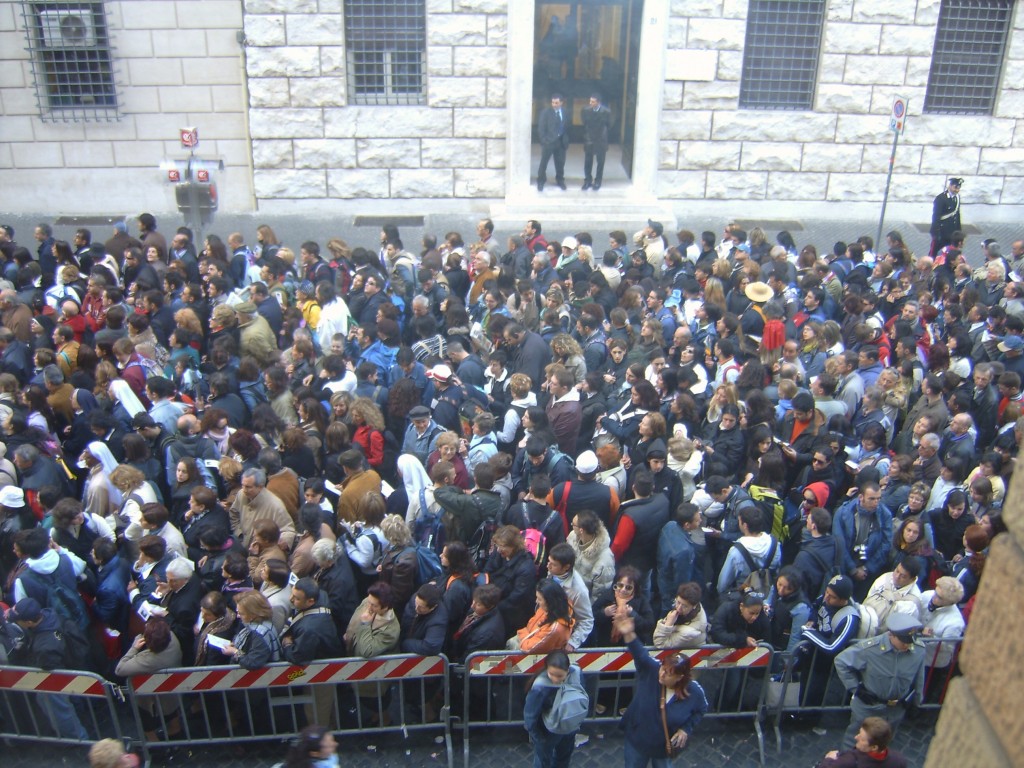 Such was the seething mass of humanity that I could not see how the streets around the Vatican could accommodate anymore people. Bars, restaurants and shops were open day and night. It was estimated that 2 million people had filed passed the Pope's body and all of them had marched passed my bedroom window, as the above photo illustrates. For the last two nights I hardly slept for the sound of hymns and rosaries and prayers in every imaginable language. The procession of humanity went on up and down every street around the Vatican. It was reported that some people had to wait for 20 hours. I could well imagine it. I was one of the lucky ones.
So, I left Rome on the Wednesday before the funeral. I think I had done my bit and payed due homage to Pope John Paul. I had a lot to be grateful to him for. He had been Pope for most of my life and all of my priesthood. His influence on me was enormous and his example was always inspirational. On the journey in the taxi to the airport I felt a great emptiness and sense of loss. Some may say it's like when Diana died – you can't grieve for someone you never knew and never met. But, I would maintain that I did know him and I had met him.  I was privileged to concelebrate Mass with him in his private chapel on seven (possibly eight) occasions. How I managed that is another story but it was largely through his private secretary, Fr Stanislaw Dziwisz. Each time I met the Pope I felt that I was in the presence of a saint.  On each occasion we had a short conversation and on each occasion he had some personal encouraging words to address to me – words that penetrated deep into my soul as if Jesus himself had spoken to me and I suppose that Jesus had indeed spoken to me directly through his Vicar on earth. I was just moved by the fact that for that moment all he was interested in was me. He gave me his undivided attention. He wanted to listen to me – an insignificant parish priest from the back of beyond – while he had the affairs of the world and the Church on his shoulders.
Pope John Paul was working miracles long before his death. On one occasion I introduced him to my mother who was in poor health at the time (she was in fact always in poor health). He blest her and said "I will pray for you". Well, that was enough to make her feel much better. However, more than that, I attribute the fact that she lived far longer than was expected, to the power of his prayers and blessing.  Did he know me? I don't think he could remember my name but by the seventh or eight encounter he was able to say to Fr Michael Loughlin and myself "Ah! my English friends". There are many stories concerning the encounters that Fr Michael and myself had with Pope John Paul – the occasion when we missed two engagements in a row and were lucky enough to be invited a third time (an appointment that we did keep). It was reported on the front page of the Evening Gazette on Teeside. I think it was that occasion as well when the Rector of the English College in Rome was irate that Fr Michael and myself had been personally invited to Mass with the Pope when a member of the British Royal Family was refused. We dined out on that one for a fortnight in Rome. Perhaps all these stories can be revealed when Pope John Paul is finally canonised.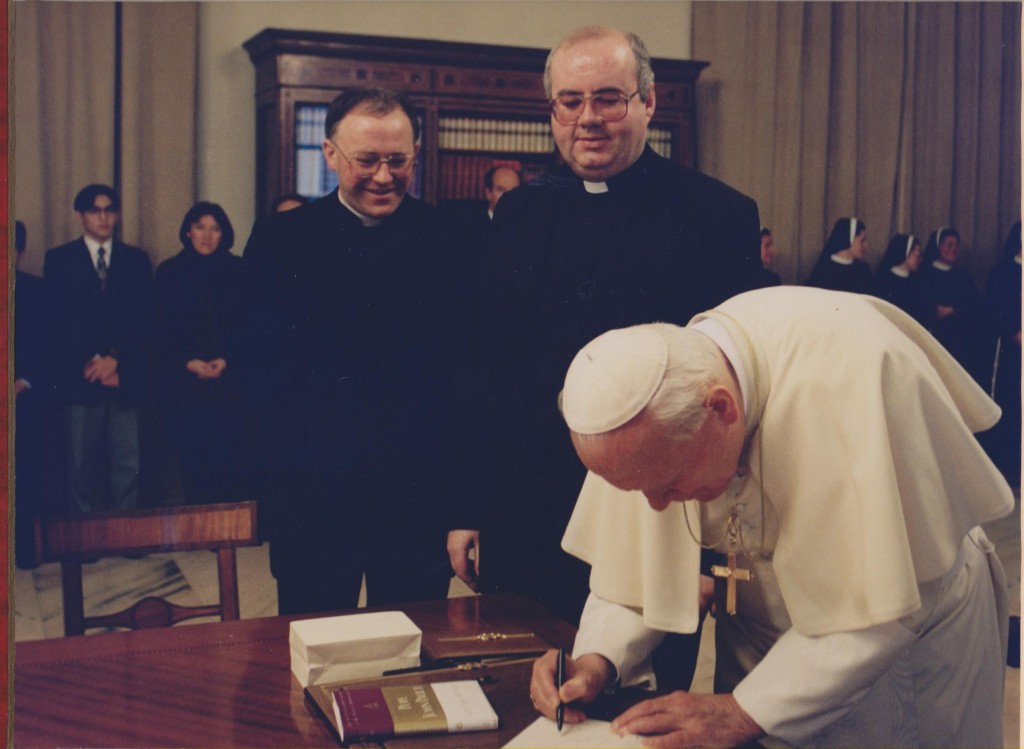 Here Pope John Paul is signing our two copies of his book – "Gift and Mystery" – on the Fiftieth Anniversary of his Priestly Ordination.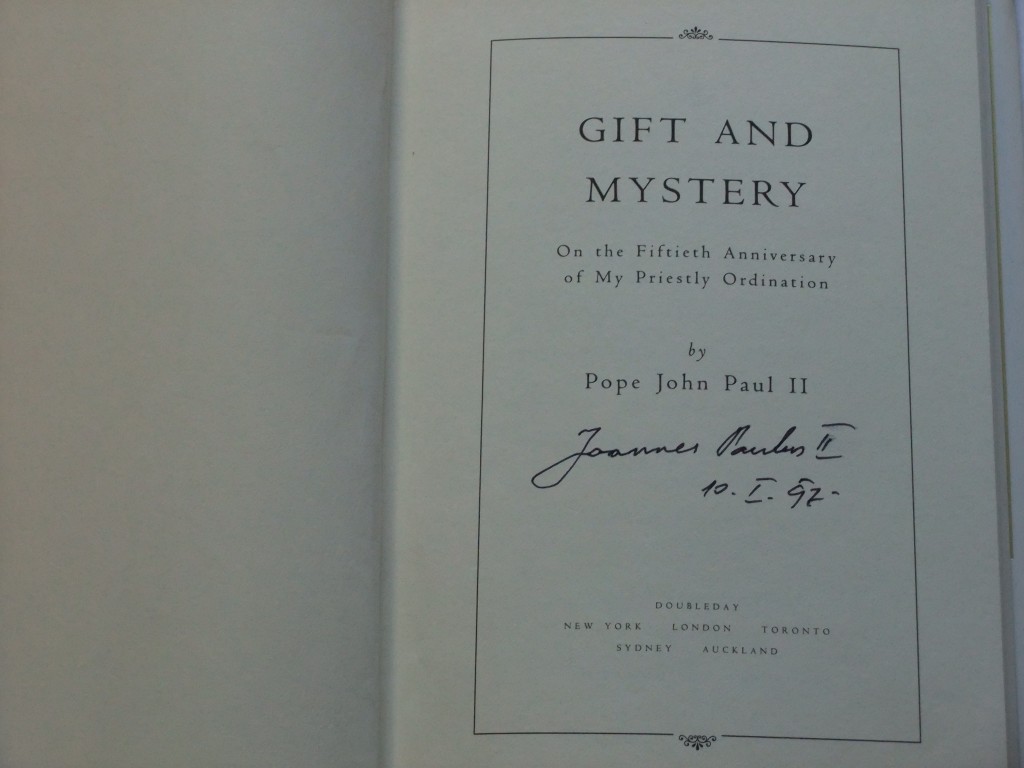 Here is a photo I took today. The actual date on the book is 10th January 97.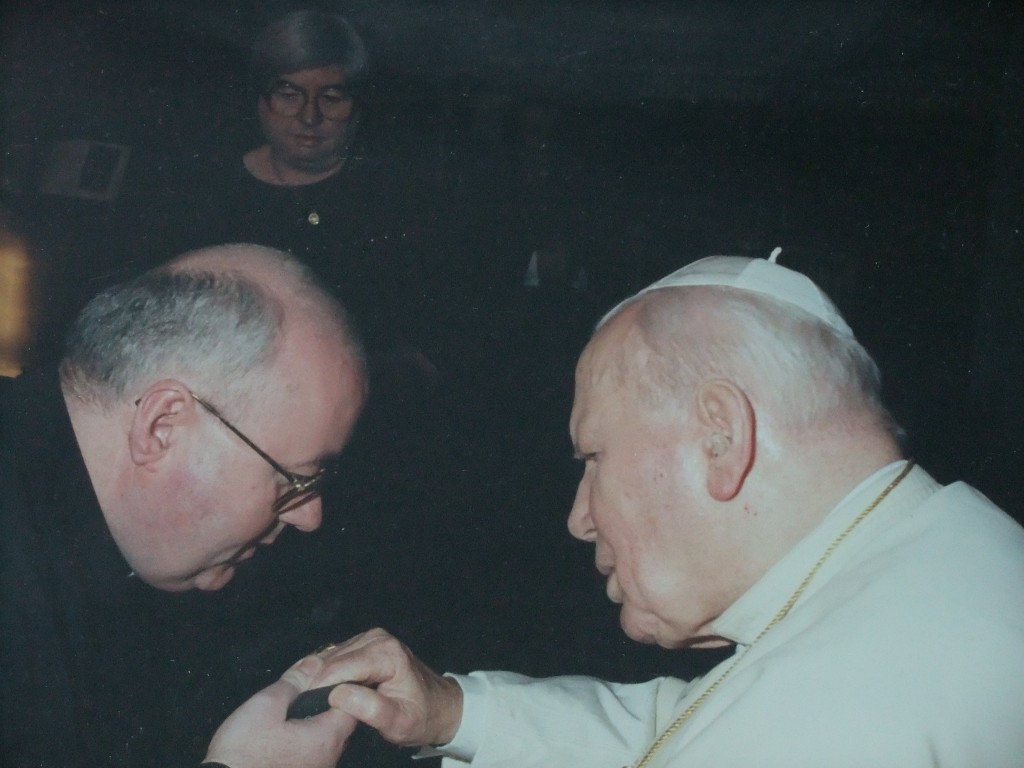 Here is a photo with my mother in the background. I can't remember what year it was.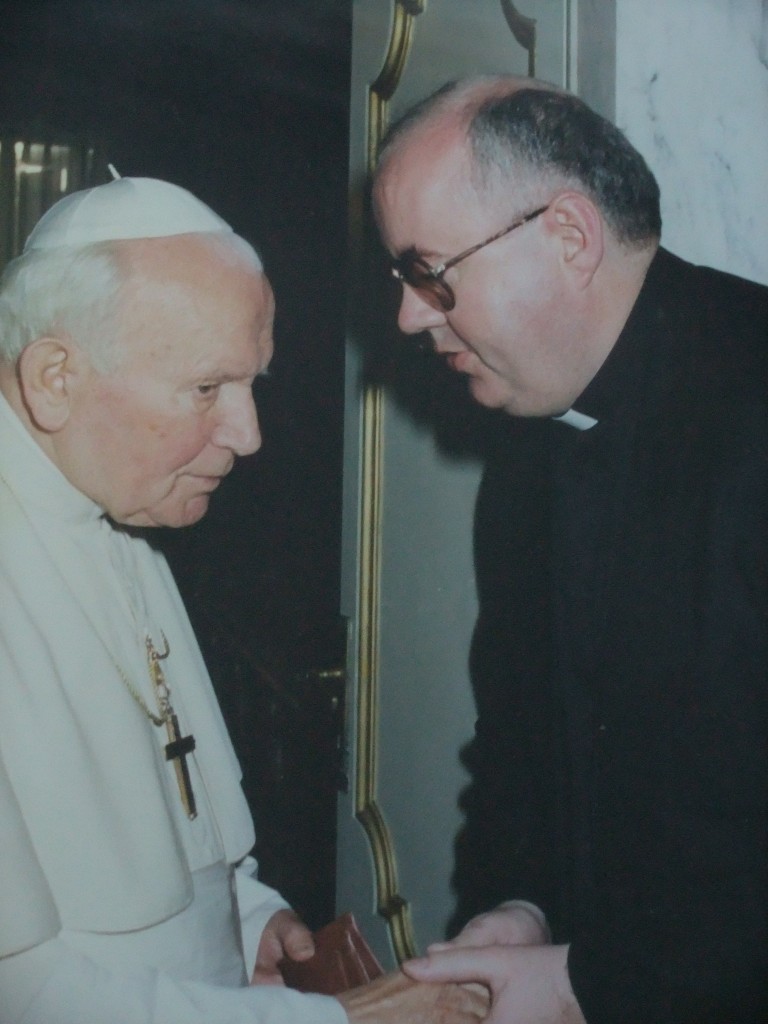 I think this photo was taken at Castel Gandolfo the Pope's summer residence in the Alban hills south of Rome.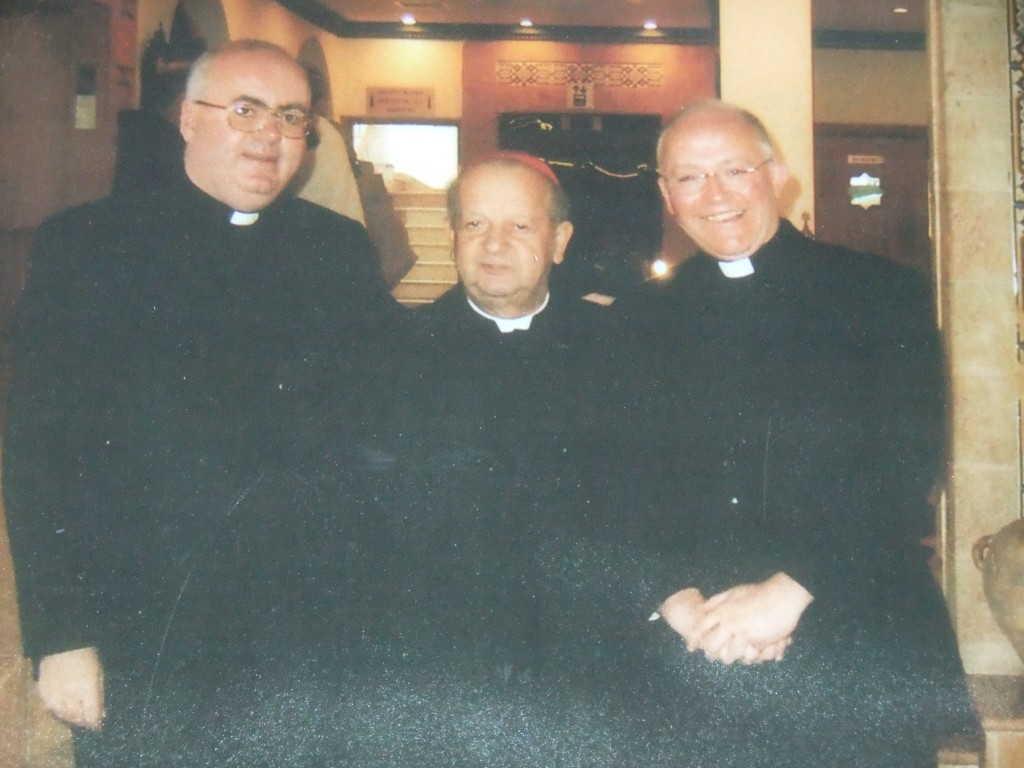 I could post lots of photo's with Pope John Paul but this poor picture is of the man who made it all possible – Cardinal Stanislaw Dziwisz, Archbishop of Krakow, for forty years he was the personal secretary to Karol Wojtyla – Blessed John Paul. This picture was taken at the Orient Palace Hotel in Bethlehem in 2009.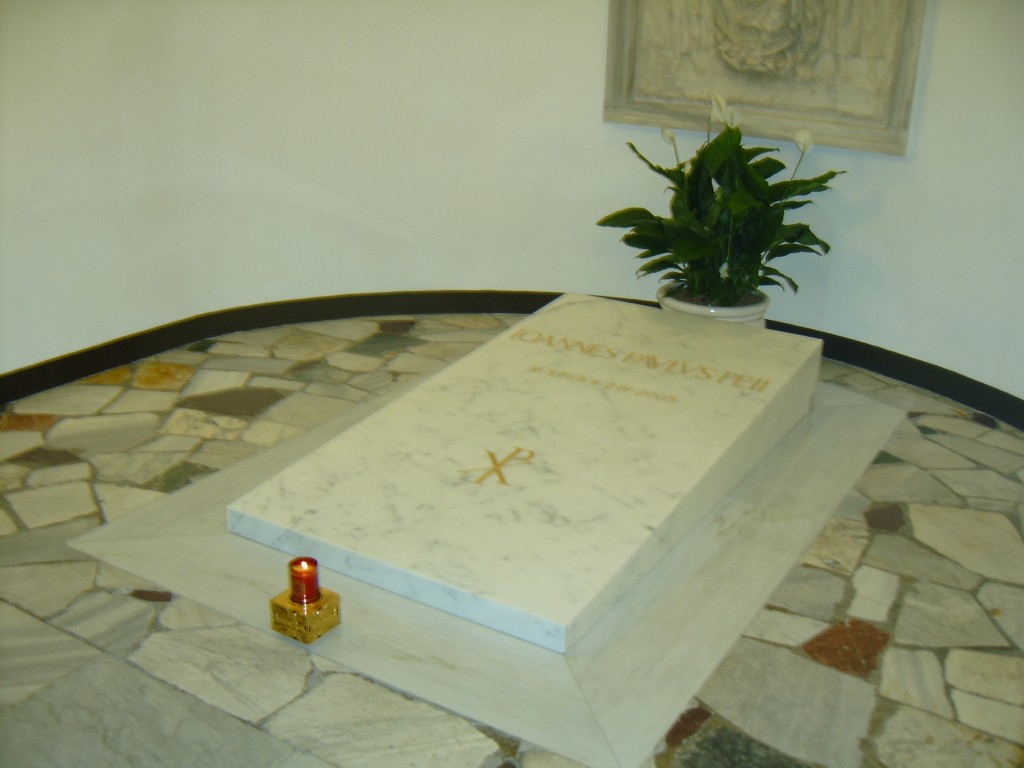 BLESSED JOHN PAUL PRAY FOR US